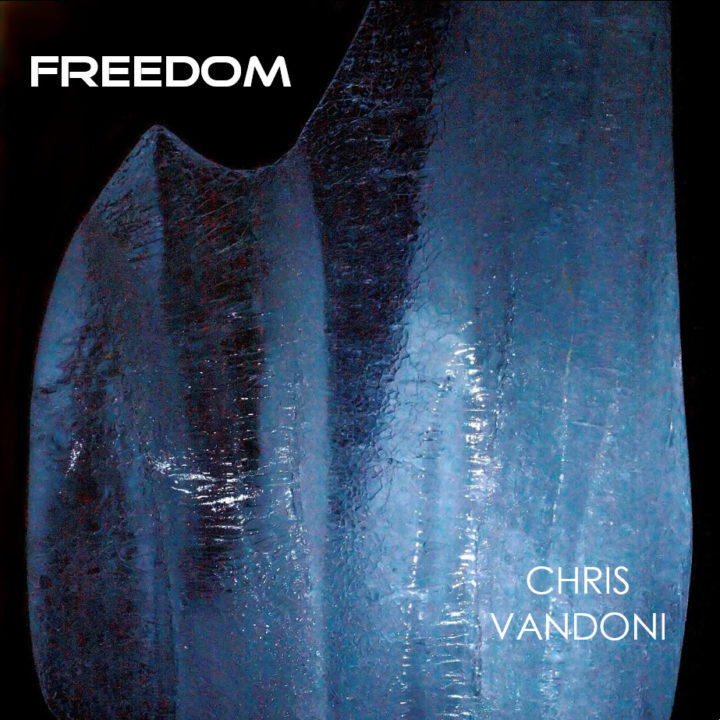 FREEDOM
 The Confusion Of War (9:23)
 The Secret Project (4:20)
 Free Yourself From Your Nightmares (10:24)
 Voices Of Freedom (6:52)
 The Versatile Path To Freedom (7:43)
 Caught In The Maze (3:59)
 The Wheel Of Time (8:43)
 A Rainy Day In Freedom (6:54)
 The Last Journey (10:19)
 Freedom (9:24)
All Songs were composed and performed by Chris Vandoni
Recorded at CatWalk Studio 2021/2022
Arranged and produced by Chris Vandoni
Mastered at R4L Studio 2022 by Dashmir Ristemi
Published by CatWalk and DANCE ALL DAY Musicvertriebs GmbH
© 2022 Chris Vandoni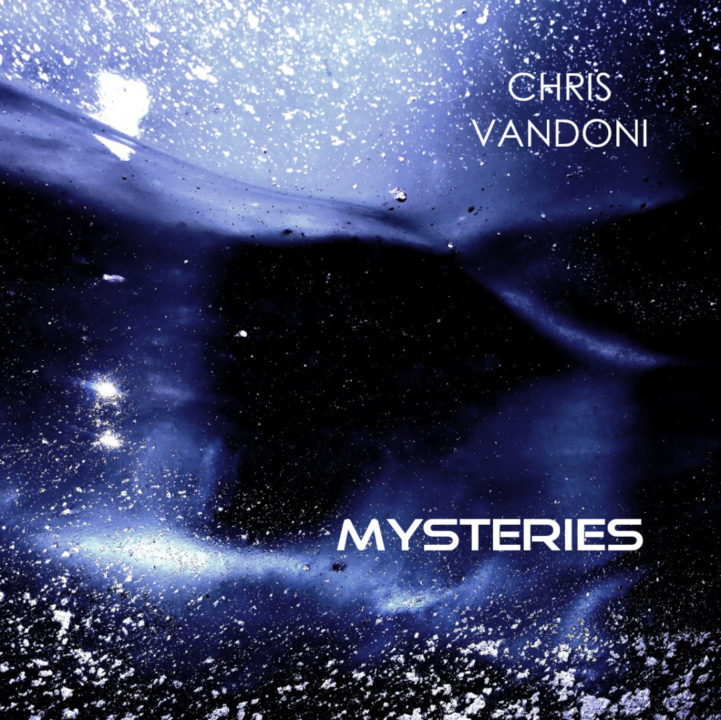 MYSTERIES
Mystery Of Fire (11:33)
Mystery Of Nature (9:03)
Mystery Of Air (9:13)
Mystery Of Light (9:32)
Mystery Of Water )10:29)
Mystery Of Life (6:22)
Mystery Of Universe (15:14)

Big Bang From Nowhere (4.24)
A New Solar System (4:40)
Dance Of The Stars (2:55)
Terminus Earth (3:15)
All Songs were composed and performed by Chris Vandoni
Recorded at CatWalk Studio 2021
Arranged and produced by Chris Vandoni
Mastered at R4L Studio 2021 by Dashmir Ristemi
Published by CatWalk and DANCE ALL DAY Musicvertriebs GmbH
© 2021 Chris Vandoni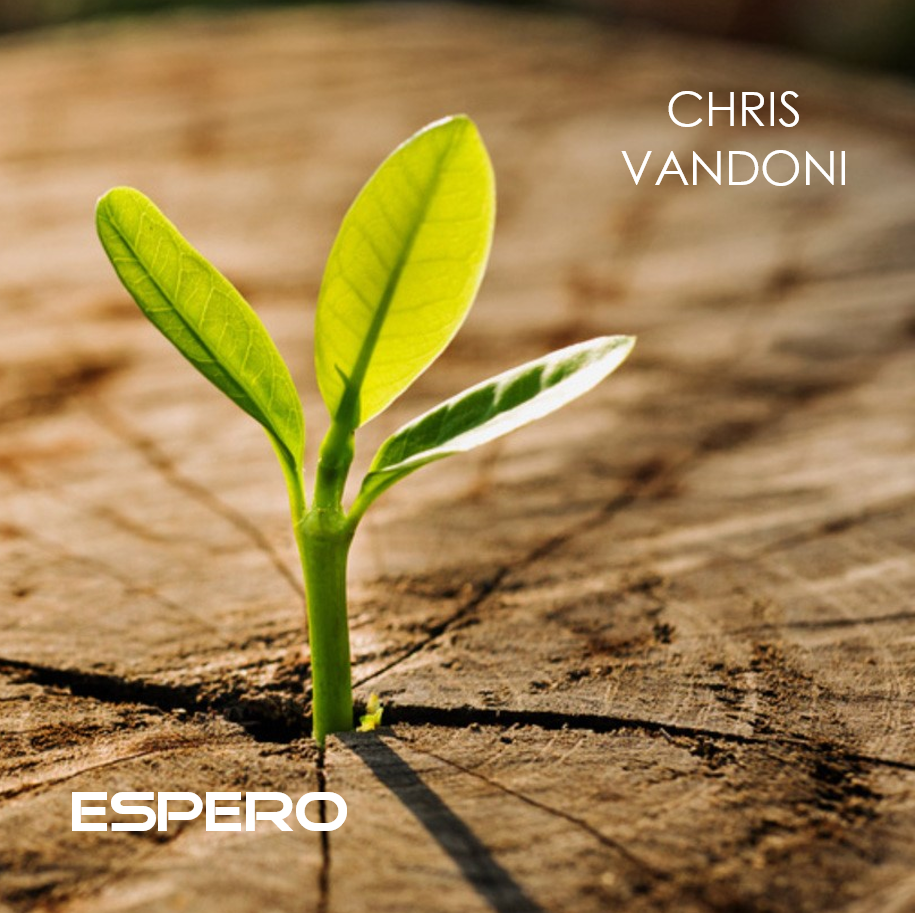 ESPERO
Purifying Rain (7:23)
Espero (3:58)
Air We Breathe (7:10)
Assault And Rescue (5:18)
Flight Over Espero (5:33)
Children Of Espero (4:52)
Voices Of Humanity (10:59)
Laurielle's Dream (4:25)
Salmons Swim Upstream (7:40)
Mi Esperas (6:35)
Desert Spring (12:27)
All Songs were composed and performed by Chris Vandoni
Recorded at CatWalk Studio 2020
Arranged and produced by Chris Vandoni
Mastered at R4L Studio 2020 by Dashmir Ristemi
Published by CatWalk and DANCE ALL DAY Musicvertriebs GmbH
© 2021 Chris Vandoni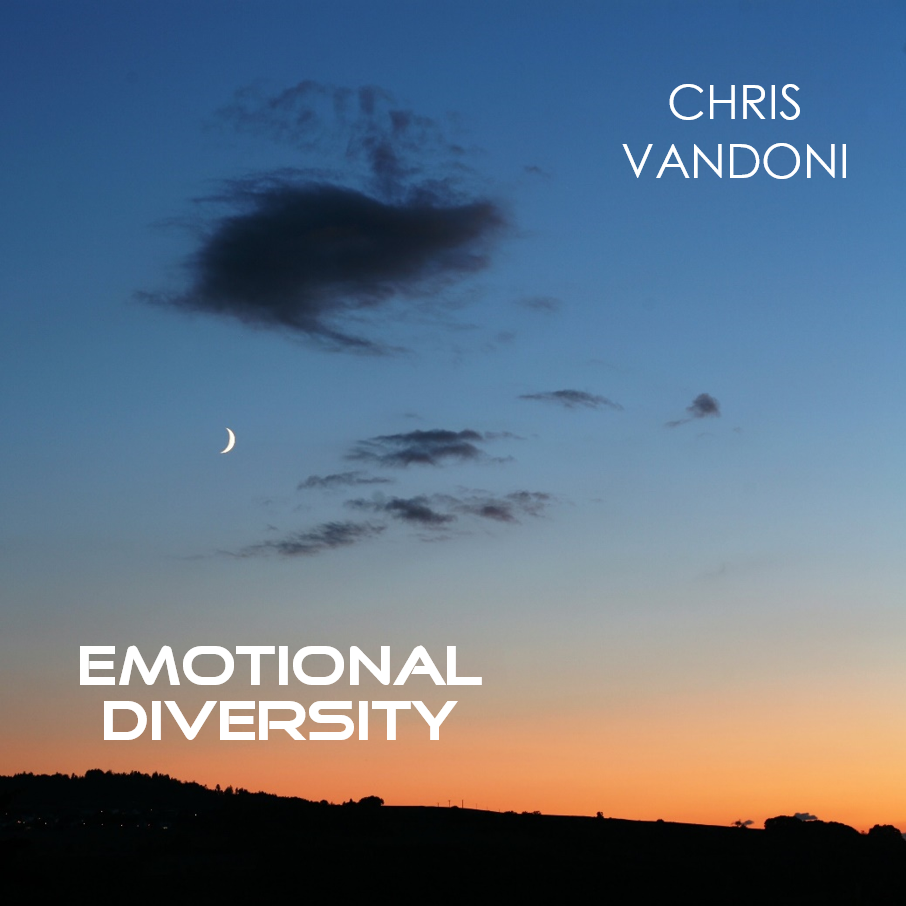 EMOTIONAL DIVERSITY
The Elixier Of Life (17:42)
Tundra (14:26)
Underwater World (9:54)
Voices (12:08)
A Trip Through Emotional Diversity (24:36)
Glaciers (4:38)
All Songs were composed and performed by Chris Vandoni
Recorded at CatWalk Studio 2020
Arranged and produced by Chris Vandoni
Mastered at R4L Studio 2020 by Dashmir Ristemi
Published by CatWalk and DANCE ALL DAY Musicvertriebs GmbH
© 2020 Chris Vandoni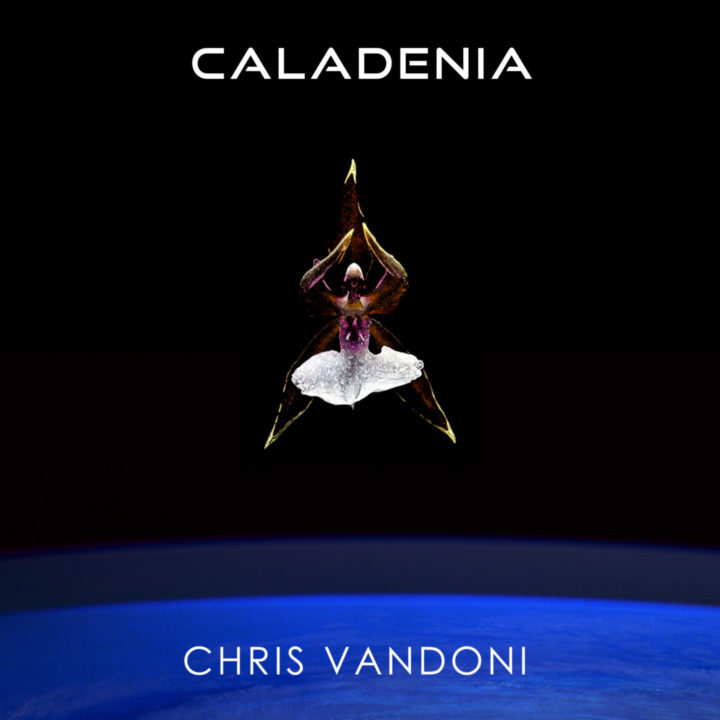 CALADENIA
Dance Of Water (5:20)
Hidden Dangers (9:44)
The Second Chance (11:28)
Expectations And Waiting (10:04)
Out Of Darkness (7:10)
The Funeral Song Of The Rainforest (6:08)
Black Lives Matter (9:30)
Echoes In Life (7:10)
Human Being (9:02)
All Songs were composed and performed by Chris Vandoni
Recorded at CatWalk Studio 2020
Arranged and produced by Chris Vandoni
Mastered at R4L Studio 2020 by Dashmir Ristemi
Published by CatWalk and DANCE ALL DAY Musicvertriebs GmbH
© 2020 Chris Vandoni
Beschreibung der einzelnen Songs
Hidden Dangers
Stell dir vor, du befindest dich an einem unbekannten Ort, vielleicht in einer dunklen Gasse einer fremden Stadt, in einem düstern Wald oder sogar auf einem fremden Planeten. Überall lauern Gefahren. Zumindest empfindest du es so. Das Gefühl der Angst nagt an dir. Du kämpfst dagegen an. Du willst fort von diesem unheimlichen Ort. Doch das Gefühl der Angst ist stark und hindert dich daran. Doch du verlierst die Hoffnung nicht. Du bemühst dich darum, dem Ganzen zu entfliehen. Du schließt die Augen und denkst an einen anderen Ort. An einen sicheren und behaglicheren Ort. Du sammelst deine innersten Kräfte und schaffst die Flucht von diesem unheimlichen Ort.
The Second Chance
Ein Vorhaben, ein Projekt, ein Kunstwerk oder sogar das Leben. Alles wird sorgfältig vorbereitet und geplant. Du willst erfolgreich sein. Obwohl sich immer wieder Menschen einmischen und auf dich einreden, gehst du zielstrebig deinen Weg. Doch trotz all deinen Bemühungen scheiterst du. Du bist niedergeschlagen, leckst du deine Wunden, versuchst zu begreifen, wie dies geschehen konnte, rappelst dich wieder auf, findest zu dir selbst, hörst auf Ratschläge, nimmst die zweite Chance, die dir gegeben wird, wahr und versuchst es noch einmal. Dieses Mal lässt du dich von den vielen Stimmen, die dich beeinflussen wollen, nicht beirren und gehst deinen eigenen Weg.
Expectations And Waiting
In vielerlei Hinsicht ist das Leben voller Erwartungen, die man sich meist selbst setzt. Einige gehen in Erfüllung. Andere lassen auf sich warten. Dieses Warten ist manchmal geprägt von Ungeduld oder Hoffnungslosigkeit. Oft fühlt es sich an wie eine Endlosschleife. Doch auch der Glaube an die Erfüllung der Erwartungen kann zum Erfolg führen.
Out Of Darkness
Der Weg aus der Dunkelheit in den verschiedensten Facetten ins Licht kann auf unterschiedliche Art und Weise begangen werden. Dazu muss man die Dunkelheit als solche erkennen und wahrhaben. Dadurch verdeutlicht sich der Pfad ins Licht zu einem spürbaren Weg. Auch wenn der erste Versuch zurück in die Dunkelheit führt.
The Funeral Song Of The Rainforest
Der Regenwald in seiner anfänglichen Pracht. Natur pur. Bis die Zivilisation mit all seinen Ausprägungen Einzug hält. Währenddessen gibt der Regenwald immer wieder seinen Trauergesang von sich.
Black Lives Matter
Das Thema über Gewalt und Diskriminierung an und Unterdrückung von Menschen anderer Ethnie ist aktueller denn je. Symbolisch dazu die Schlagstöcke von Polizisten, die auf demonstrierende Menschen einschlagen, und die sogar während einer Trauerfeier nicht aus den Köpfen der Betroffenen verschwinden.
Echoes In Life
Im Leben wiederholen sich Ereignisse, Vorkommnisse, Erlebnisse oder Schicksale wie ein Echo immer wieder.
Human Being
Der Mensch als Wesen mit all seinen Eigenschaften und Ausprägungen, im Negativen und im Positiven. Der Mensch und all seine Nebengeräusche jeglicher Art. Der Mensch, der auf seinem Weg Frieden und Harmonie finden sollte.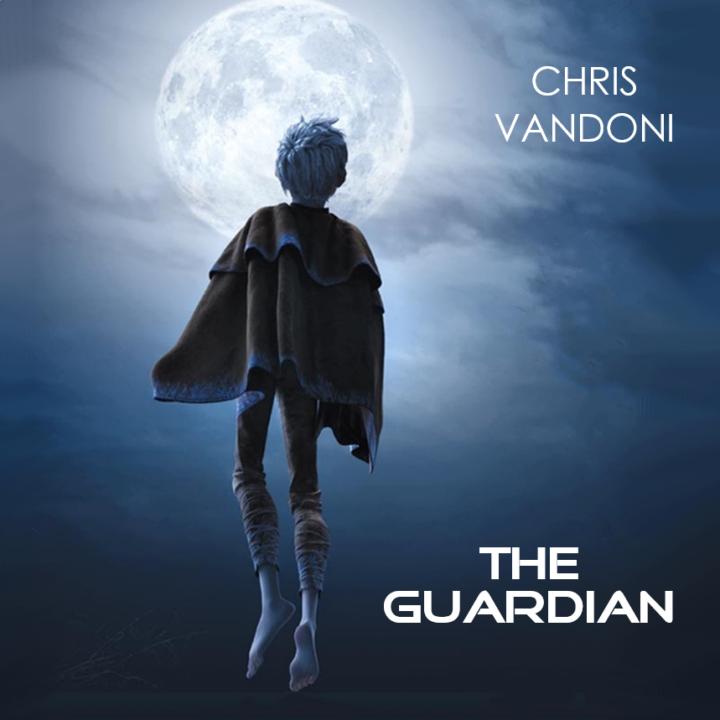 THE GUARDIAN
Captain Blackbird (4:46)
Space Hopper (4:53)
Swarms In The Canyon (5:30)
The Jungle Lake (4:18)
Interstellar Space Flight (12:54)
The Invasion (3:17)
Havasupai Point (5:27)
The Temple Of San Pietro (4:49)
The Guardian Of The Spheres (4:50)
Time Over (4:42)
Indigenous Meet Civilization (4:52)
Enter The Sphere (4:23)
Cosmic Bazaar (6:41)
On The Run (4:28)
Restart (4:02)
All Songs were composed and performed by Chris Vandoni
Recorded at CatWalk Studio 2019
Arranged and produced by Chris Vandoni
Mastered at R4L Studio 2020 by Dashmir Ristemi
© 2020 Chris Vandoni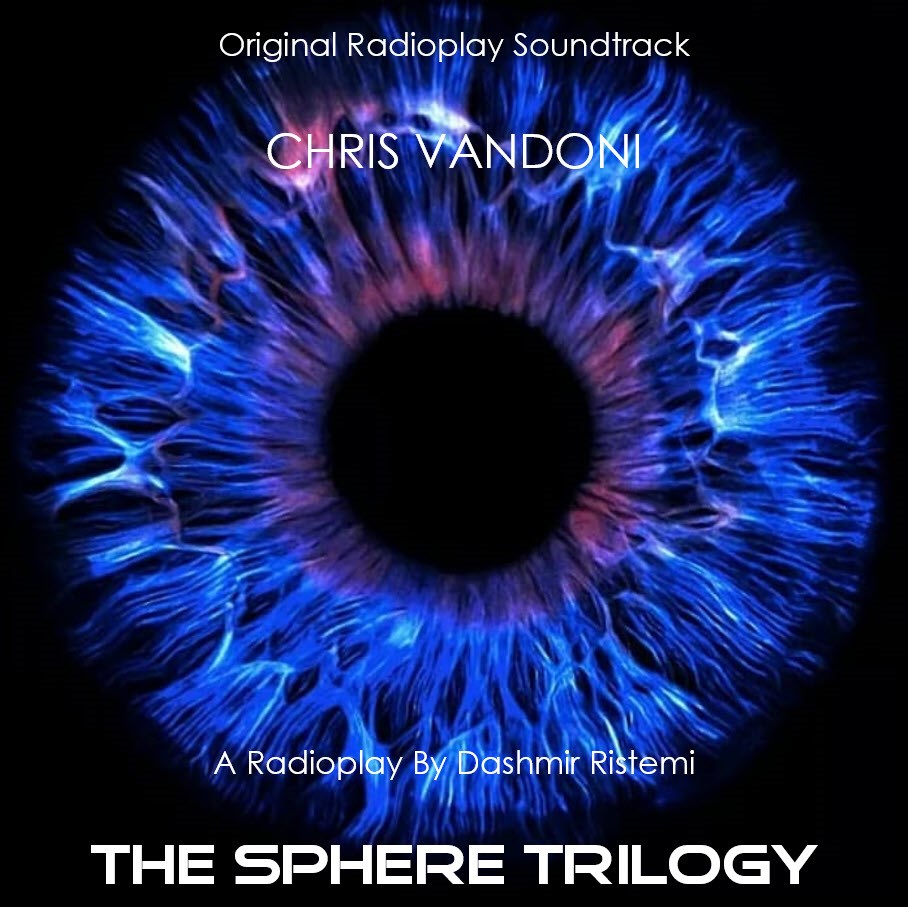 THE SPHERE TRILOGY
CD 1
The Catacombs Of Discardtown (5:02)
Nightmares (3:34)
Northern Polar Lights (4:00)
Gray Particles (4:07)
Turned To Dust (4:11)
Farewell (2:34)
Operation Rescue (5:18)
Dissolved In Light (3:57)
Down Diving (In Memory Of Florijana Ismaili) (9:00)
Rising Sphere (3:48)
Idea 113 (4:30)
Idea 112 (4:03)
Farewell (Reprise) (1:24)
CD 2
On The Run (4:28)
Spheres In The Sky (3:48)
Leaving Discardtown (2:50)
The Caldans (3:57)
Strange Worlds (4:07)
In The Caves Of The Sphere (3:18)
Harmony (2:50)
Return To The Jungle Lake (2:50)
Noise In Space (2:04)

The Blue Creature (4:33)

Light In Darkness (3:51)

Rays Of Hope (4:30)

Swarms In The Canyon (6:48)

Unplugged (3:32)
All Songs were composed and performed by Chris Vandoni
Recorded at CatWalk Studio 2018-2020
Arranged and produced by Chris Vandoni
Mastered at R4L Studio 2019-2020 by Dashmir Ristemi
© 2020 Chris Vandoni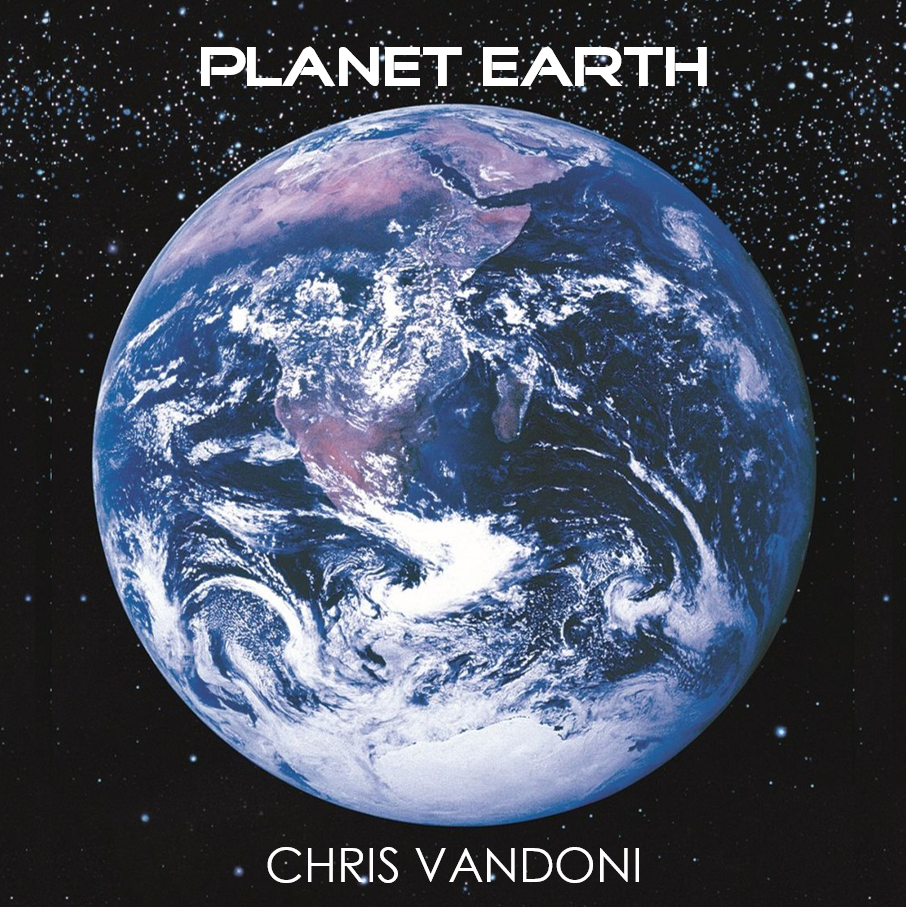 PLANET EARTH
Planet Earth – Piano Concert in D Major (Chris Vandoni) 7:00

Ave Maria (Franz Schubert) 5:53

Adagio in G Minor (Tomaso Albinoni) 7:09

Blown By The Wind (Chris Vandoni) 3:47

Chorale from Cantata BWV 147 in G Major (Johann Sebastian Bach) 3:43

Ave Maria – Meditation on the 1st Prelude of J. S. Bach (Charles Gounod) 4:07

Piano Sonata No 14, Adagio Sostenuto (Ludwig van Beethoven) 4:20

Piano Concert No 5, Opus 73, Adagio (Ludwig van Beethoven) 6:34

Water Music, Alla Hornpipe (Georg Friedrich Händel) 2:44
Carried by The Winds (Chris Vandoni) 4:22
Stressed People (Chris Vandoni) 3:05
Mariage d'Amour (Paul de Senneville) 5:21
Prelude in C Minor (Sergej Rachmaninow) 2:37

A Perfect Day – Fantasy in C Sharp Major (Chris Vandoni) 7:06
«Planet Earth – Piano Concert in D Major», «Carried by The Winds»,
«Stressed People», «A Perfect Day – Fantasy in C Sharp Major»
were composed by Chris Vandoni 2019,
«Blown By The Wind» was composed by Chris Vandoni 1993
All Songs recorded by Chris Vandoni at CatWalk Studio 2019
Arranged and produced by Chris Vandoni
Mastered at R4L Studio 2019 by Dashmir Ristemi
© 2019 Chris Vandoni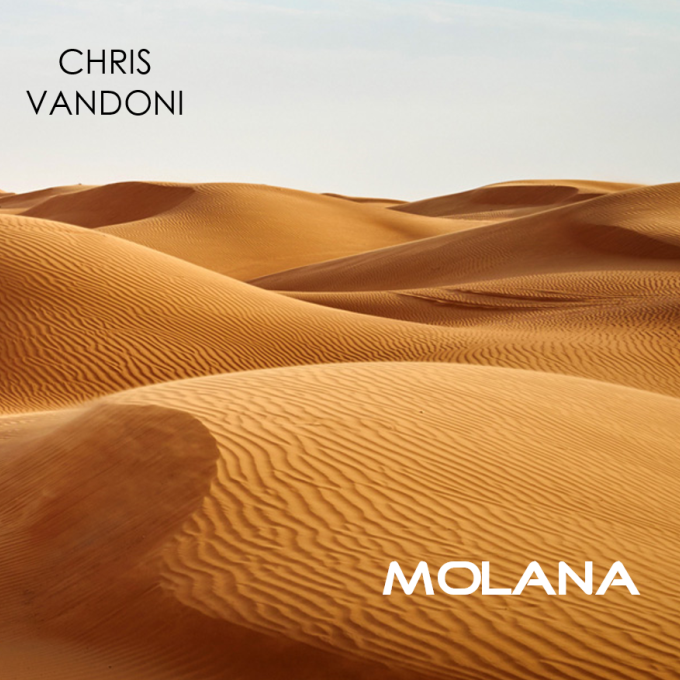 MOLANA
Perfect Machines (4:08)
Hymn Of Tongalen (5:02)
Awakening Forest (3:53)
Transience And Memories (4:10)
War Is No Solution (5:52)
The Desert Of Molana (5:42)
What Remains At The End (5:37)
The Rescue (6:40)
Relieved Look Back (3:21)
Farewell (2:36)
Cat Walk (3:48)
Relieved Look Back (Voice Version) (5:25)
Michelle's Sadness  (3:17)
Michelle's Waltz (2:15)
Neha's Paintings (4:00)
Farewell (Reprise) (1:23)
All Songs were composed and performed by Chris Vandoni
Recorded at CatWalk Studio 2017-2018
«Relieved Look Back» and «Farewell» was composed and recorded by Chris Vandoni 2015
«Awakening Forest» was composed by Chris Vandoni 1993
Arranged and produced by Chris Vandoni
Mastering at R4L Studio 2018 by Dashmir Ristemi
© 2018 Chris Vandoni
SPHERES
Hurricane (Radio Edit) (5:12)
Colors Of The Seasons (4:43)
Flow (6:48)
Rain Of Love (9:26)
The Walk Of The Coaches (2:24)
Tibetan Dance (2:57)
On The Way To New Horizons (5:36)
Temp Da Fulla (4:52)
Hurricane (Extended Version) (7:40)
Into The Sphere (6:57)
Behind The Raindrops (5:09)
La Ĉiutaga Vivo De Infano (4:54)
Bonus Tracks:
Morning Dew (New Performing) (4:19)
Hurricane (Live Version) (8:13)
All Songs were composed and performed by Chris Vandoni,
except «Tibetan Dance» composed by Traditional
«Morning Dew» was composed by Chris Vandoni 1989
Arranged and produced by Chris Vandoni
Recorded at CatWalk Studio 2014-2015
© 2015 Chris Vandoni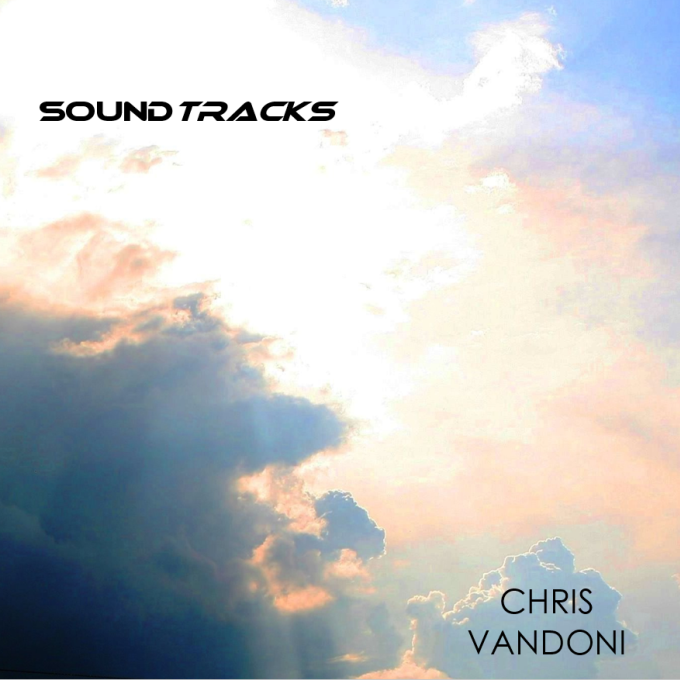 SoundTracks
One For All, All For One (4:31)
Drum Session (4:20)
The Bitter Defeat (3:45)
Indentation Of Heroines (1:07)
Avatar (2:50)
After The Lost Game (3:46)
Shadow Player (2:07)
Relieved Look Back (3:21)
Farewell (2:35)
Composed, arranged and performed by Chris Vandoni
Recorded at CatWalk Studio between February and June 2014
© 2014 Chris Vandoni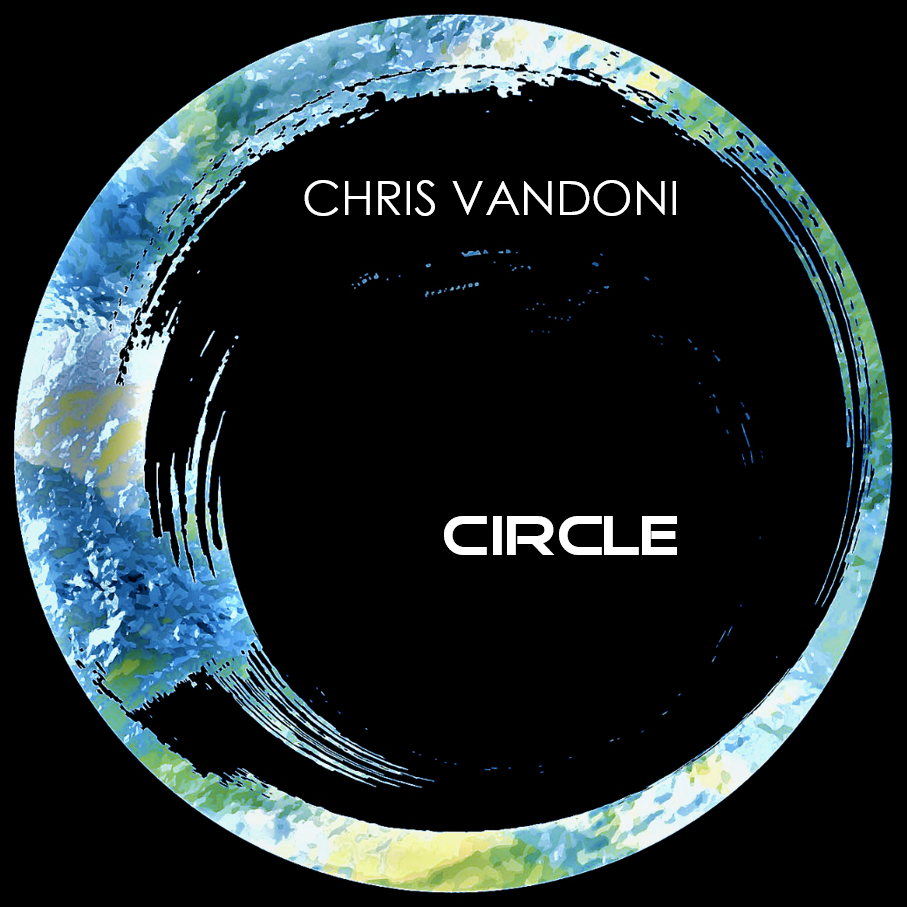 Circle
Water Magic (6:34)
Silent To Light (7:53)
Waves Of Glandore (5:37)
Time Of Mourning (3:22)
Prism (4:23)
A New Day (4:06)
Good Bye Dad (4:30)
Morning Dew (4:43)
Mickie's Theme (4:10)
River Rafting (6:47)
Far Away (5:42)
Soaring Flight (6:38)
Awakening Forest (3:46)
Spring Awakening (3:57)
Steps Of Life (3:31)
Arrival (5:01)
Composed, arranged and performed by Chris Vandoni
Recorded at CatWalk Studio 1993-1994
© 1996 Chris Vandoni
Profiles
Quick Steps (2:56)
Opening (2:50)
Izmir (3:41)
Merry Move (2:56)
Birdy's Flight (6:31)
Caribbean Tour (4:07)
Coming Home (2:30)
Act Of Anger (2:59)
Train Of Thought (4:18)
Cabin Point (4:29)
Wantonness (3:48)
Hasty Dog (3:40)
Easy-Going (3:52)
Hot Spell (3:36)
City Walk (3:28)
Running Children (3:38)
Tango (5:09)
Pico Pica (4:05)
Composed, arranged and performed by Chris Vandoni
except "Tango" Composed by René Dupéré and "Pico Pica" Composed by Don and Dave Grusin
Recorded at CatWalk Studio 1987-1993
© 1995 Chris Vandoni
Fulfilments
Spring Awakening (3:51)
I Will Find You (2:42)
Arise (4:01)
Field Of Dreams (3:48)
Deepness (3:18)
Arrival (4:56)
Steps Of Life (3:29)
A Thoughtfull Daydream (3:49)
Calmness (3:56)
Waves Of Chance (3:48)
Return Of The Valiants (5:39)
All Songs composed, arranged and played By Chris Vandoni
Produced by Peter Erd
Published by Verlag Peter Erd GmbH
Recorded 1994 at CatWalk Studio
© 1994 Chris Vandoni
Erhältlich bei Amazon
 Movements
Morning Dew (4:33)
River Rafting (6:48)
Far Away (5:38)
Soaring Flight (6:26)
Awakening Forest (3:42)
Still Love In Distance (4:12)
Joy (3:20)
Birthday (5:00)
Ballade (3:26)
All Songs composed, arranged and played by Chris Vandoni
Produced by Peter Erd
Published by Verlag Peter Erd GmbH
Recorded 1993 at CatWalk Studio
© 1994 Chris Vandoni
Erhältlich bei Amazon
Inspirations
A New Day (4:03)
Dew Drops (2:32)
Dancing Butterflies (3:18)
Good Bye Dad (4:29)
The Mushroom Field (2:50)
Cherry The Dog (3:02)
Festival (4:01)
Water Reflections (3:51)
Mickie's Theme (4:10)
Dragon-Flies (3:00)
Blown By The Wind (3:45)
Distance (4:02)
All Songs composed, arranged and played by Chris Vandoni
Produced by Peter Erd
Published by Verlag Peter Erd GmbH
Recorded 1992 at CatWalk Studio
© 1993 Chris Vandoni
Reflections
Water Magic (6:29)
Silent To Light (7:51)
Crystal Lake (3:24)
Waves Of Glandore (5:32)
Elegie (3:57)
The Deep (3:40)
Snowy Day (5:48)
Time Of Mourning (3:20)
Prism (4:12)
All Songs composed, arranged and played by Chris Vandoni
Produced by Peter Erd
Published by Verlag Peter Erd GmbH
Recorded 1992 at CatWalk Studio
© 1993 Chris Vandoni
Erhältlich bei Amazon
The Rain Forest
The Rain Forest (33:57)
Levelling The Forest (5:22)
Eternal Voices (5:22)
Machine Dance (2:59)
Silent Sleep (5:38)
Bird's-Eye View (4:58)
Misty Light (2:34)
Falling Trees (4:21)
Baby's Dream (2:54)
Pulsations (14:59)
The Human Being (1:19)
The Ambitious (3:30)
The Individualist (2:00)
The Thinker (2:32)
The Natural Being (2:07)
The Fighter (3:31)
All Songs composed, arranged and played by Chris Vandoni
Produced by Markus Heeb & Paul Rostetter
Published by Grammophon Heeb AG, CH-7000 Chur
Recorded at CatWalk Studio
October 1990 To January 1991
Mastering at Gamma Recording Studio, CH-4663 Aarburg,
April 28 to 29 & June 24 1991
Engineering by Daniel A. Meyer, Cover Painting by René Widmer
© 1991 Brambus Records